I mentioned a few days ago that WordPress Mu was released for version 2.7, and today I finally had time to install it. The upgrade was incredibly smooth, just copied the files right on top of my existing Mu install.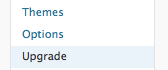 After logging into the admin console, I was prompted to copy/paste a small bit of code into the wp-config.php. Lastly, I ran the Upgrade script inside admin console and I was off to the races! It couldn't have been easier. Thanks Donncha for all your hard work!
During the upgrade, I noticed that searching my blog only returned results from 1 of my 2 blogs (Page 2 is technically a separate blog). By default, WordPress Mu searches only the currently active blog, not the entire site, and I could've sworn I'd fixed this before, but alas, apparently I had not.
Googling led me to the One Search Mu Plugin, built by Jason Ungos, who's done a great job writing it up. The install was a tad clunky – you have to finagle it to get it to run the install script – but once it's MySQL views are created the thing just works.