With the recent news of Apple selling 100% DRM free music (or is it?), I decided to check it out and see what the damage would be to upgrade my library.
Try as I might, I can't get the darned thing to work.
In iTunes, the Music Store should have a Quick Links menu that looks like: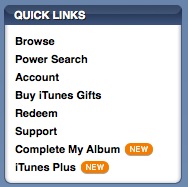 Instead, mine looks an important bit different: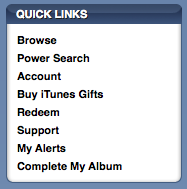 For some reason, my iTunes lacks the magical iTunes Plus link. From what I gather, iTunes will only upgrade all or none of your library, and this is based on your purchase history through the Music store. Oddly enough, when I log into my account in the Music store, my only purchases listed are my iPhone application purchases. None of my music purchases are listed in my account in iTunes.
I'm logged into iTunes as:

with music sporting the following info:

,
but oddly enough this doesn't show up in my list of purchase when clicking the

What am I missing?