This past friday, I was poking around my bit.ly/pro account and couldn't help but notice the giant yellow banner telling me I needed a custom short domain for my bit.ly account. The nerd that I am just had to get my very own shortener, especially since the window of opportunity might be waning. But what could I do? "adamwulf.me" isn't exactly short, and "wtti.net" isn't terribly graceful (or even available!).
I used 101domain's list of TLDs to spur my creativity. I really wanted to get "ad.am" or "re.ad", but the second level domain has to be at least 3 characters, so I kept looking until I finally thought of "ada.ms". Perfect! Especially so for a URL shortener; http://ada.ms/hff-promo will read as "Adam's HFF Promo". There was just one catch – the domain was unavailable.
Hoping I could bargain with the current owner, I did a quick whois of the domain and found this: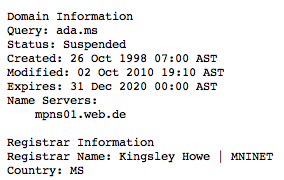 The domain was indeed registered, and (apparently through 2020!), but it was listed as suspended. Now I've been a bit lax with some of my domains in the past, and I know that "suspended" usually means "expired but with grace," and the only reason registrars don't outright throw the domain back into the wild is so that they can create another impending event – "quick! renew before someone else…. (probably no one?) snatches up your precious nearly-almost-but-not-quite-expired domain!!"
Since I was currently browsing a middle man's website at 101domain, I decided to seek out the true source of .ms domains and find out for sure. I'd no idea who the final authority on .ms domains is, but the "mninet" from the whois was all the Googling it took to find out. I double checked the suspended status on their website – just in case – and found that it was, in fact, unavailable for registration. Strike two.
Down but not out, my last ditch effort was to email the Montserrat registrar directly:
Hello,

I have found that the domain name ada.ms is currently suspended. Is this domain available to be registered? If not, how long does the domain need to stay suspended before it could be registered? I'd be very eager to register this name if at all possible, and appreciate any information you could give me.

Thanks,

Adam
This was late Friday night. Hopeful, I went to sleep.
After an eventful weekend (we bought our Christmas tree!), I awoke extremely excited to see this in my email:
Adam,

That name will be Deleted to allow you to Register it.  Look for it around 10AM EST.

Regards,

.MS Domain Management
Fantastic! And the casual "Look for it around 10AM" combined with the relatively rareness of .ms domains made me hopeful I wouldn't be victim to domain sniping in the final moments. I refreshed my iPhone every 2 minutes for the next 2 hours waiting for the domain to become available. Sure enough – the ada.ms became available (it was closer to 11AM EST) as I was sitting in a coffee shop right before work this morning. 30 seconds later, my payment was pending and the domain was mine!
For now, I've kept with my plan and setup ada.ms as my custom bit.ly extension, but I'm open to other ideas. While the custom bit.ly domain is pretty cool, I'm a little bummed that the root domain redirects to bit.ly instead of allowing me to redirect it to adamwulf.me – that small feature is for only $995 / mo for Enterprise customers. Instead, I might try using .htaccess, but it feels like a hack. Bit.ly already puts 1 hop between you and your destination. Using that hack would put another hop in between that :(. Either way, I'm more than happy for now, and I'm actually really excited to start using it to send out links. In fact, I have to force myself not to use it so I don't turn into an overzelous link spammer peddling every mildly amusing link I come across :).
Lesson learned: short domains are awesome.
Lesson two: Sometimes all it takes is a polite email for opportunities to open up, even when the door seems closed 🙂
And be sure to click the Tweet This button below the post – your twitter followers will undoubtedly be in awe of your internet savvy when they see the fancy ada.ms link back to the post! 🙂