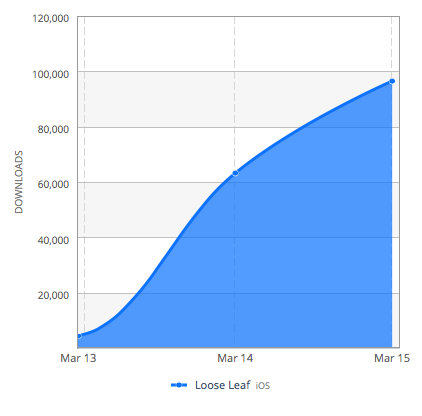 Ask anyone, and they'll tell you that launch day is the most important day of an app's life, and if you miss it then you've lost.
I wrote earlier about the lackluster launch day for Loose Leaf, and over the past 3 months I've continued to push through a marketing strategy. This is a marathon, not a sprint. Today is an important mile marker: 3 days bringing nearly 100k downloads!
"So how do you get 100k downloads for your app?" you may ask. If you'd asked me three months ago, I'd have no idea. Arguably I still have no idea since we got just under 100k downloads this past weekend, but let's round up for today – I'm celebrating!
The short story: do new things constantly.
Three Months
These past 3 days couldn't have happened without the three months before them. After last November's launch, I started reading Traction. The book outlines 19 different marketing channels that could work for any company, and it encourages brainstorming and prioritizing how every one of them could be used.
I took it to heart and started working my way through my own spreadsheet of ideas. At the time of writing, I still have 50+ ideas in the spreadsheet – it's a system not a goal.
A few of the ideas that I've worked through:
Open source: PerformanceBezier in particular has brought significant visibility to the app
Coding Livestreams: It's a fun way to open source some code, and has also resulted in some press mentioning Loose Leaf
Lots more app videos: I started using Vine for frequent developer updates, and hand shadows for better demo videos
Started working with Madalyn Sklar and then Steve Young: both of whom have been instrumental in teaching and helping me
Joined #startup to learn from other startup makers
Start regularly attending and occasionally presenting at local meetups
and many more ideas I won't bother listing…
I discovered that these ideas are more than their sum. It's a make-your-own-luck game, where the more places you push, the more often they push together. This podcast interview helped get Loose Leaf seen and posted to Product Hunt late last month, which ultimately helped our pitch this past weekend.
Three Days
When I started working with Steve in late February, one of the ideas he brought was to make Loose Leaf free for just 1 weekend. The goal for the weekend would be 20k to 40k free downloads tohelp prove traction for the app,  validate our target market, and jump start a community of users.
Steve's strategy here is simple:
It only makes sense for paid apps, the higher priced apps work even better
It requires at least some traction already
Plan to go free for just 1 weekend
Pitch specific sites about the high price app going free
Dropping a paid app with some validation to free for a very limited time can be an effective pitch to high traffic app deal sites. For the free weekend, we pitched three different sites, and on Friday we got picked up by just one of them.
On Saturday morning, 1 day into the free weekend, Loose Leaf had barely over 4k downloads. Traffic grew throughout Saturday, and the related tweets got it picked up by AppAdvice, which brought even more traffic. We also started to rank in the App Store's top free productivity apps, and all of the combined traffic brought in over 58k downloads that day! This continued into Sunday for an additional 33k downloads, totaling over 96k for the weekend!
It's very safe to say this has been a wild success! We were able to get Loose Leaf in front of a large audience, measure conversion rates, A/B test the website, and jump start a strong community of users and start hearing their valuable feedback. The biggest take away was connecting with lots of new users and validating and tuning our target market.
Three Lessons
1. Small problems become big problems with lots of users
Before the weekend, I only knew of very rare and difficult to reproduce bugs in the app. With this many people using the app, even rare bugs becomes immediately obvious. Crashlytics has been invaluable for reporting problems in real time, and thankfully shows problems hit a small % of users.
2. Measure. Measure. Measure.
Going into the weekend, I was prepared to measure as much as I possible. Mix panel and Google Analytics were setup on the site to track demographics and conversions and A/B test different site layouts. Mixpanel was also integrated into the app to anonymously track average session duration, tool usage, and which tutorials pages were effective. This is a huge help both for which features to work on and where to focus our marketing energy.
3. Brainstorm and keep trying new things
This weekend happened because of the three months of brainstorming and work that led up to it. Today was that validation to keep pushing, keep moving, and keep running the marathon. I still have 50 ideas to push through on my Traction spreadsheet, and by the time I'm done I'm sure I'll have thought of 50 more.
Let the next mile begin.